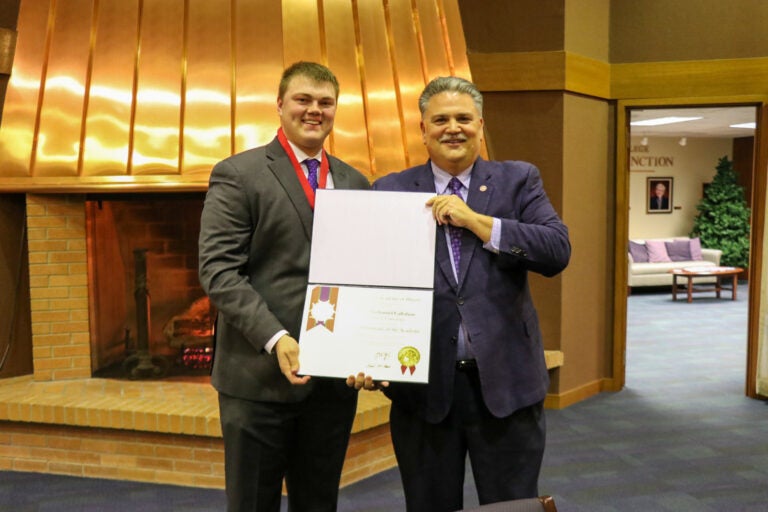 Rockford, Ill. (Dec. 8, 2021) – Rockford University, the region's leading private four-year institution, announced that senior Ryan Callahan was named a Lincoln Academy Student Laureate, a prestigious honor awarded to only 55 students in the state.
The Lincoln Academy of Illinois bestows the honor to the most noteworthy senior from each participating Illinois college and university. Each fall, an outstanding senior from each of the four-year degree-granting institutions of higher learning in Illinois is awarded the Abraham Lincoln Civic Engagement Award. In the spirit of Lincoln, Student Laureates are honored for their leadership and service in the pursuit of the betterment of humanity and overall excellence in curricular and extracurricular activities. Student Laureates are nominated by their schools.
In May 2022, Callahan will graduate with a Bachelor of Science in political science with a minor in secondary education. He will complete his student teaching next semester at a local school. Callahan, who serves the university as a resident assistant, plans to attend law school after graduation with the goal of one day serving the Rockford community by participating in local or state government. After interning with both State Representative Maurice West and the U.S. District Court, Northern District of Illinois (Western Division), Callahan knew he wanted to get involved in politics.
"I am incredibly humbled to receive this award," said Callahan. "I'm grateful to Rockford University for allowing me to make contributions to the school community and the Rockford community through leadership positions and community-based learning."
"We are especially proud of Ryan's achievement," said Dr. Eric W. Fulcomer, Rockford University President. "Ryan is well-deserving of this award as he has shown tremendous commitment to his studies, to Rockford University, and to the greater Rockford community."
The ceremony to recognize the Student Laureates of The Lincoln Academy, historically held every fall at the Old State Capitol State Historic Site in Springfield, was held virtually this year due to COVID-19 restrictions. It can be viewed at https://thelincolnacademyofillinois.org/
All Student Laureates receive a letter and certificate of merit signed by the President of the Lincoln Academy, Governor J. B. Pritzker, as well as a Lincoln medallion, a challenge coin, and a $500 check.
ABOUT ROCKFORD UNIVERSITY
Rockford University is a private four-year, co-educational institution founded in 1847 offering undergraduate and graduate degrees in traditional liberal arts and professional fields. The University offers more than 80 majors, minors and concentrations, including the bachelor's degree completion program for a B.S. in Management Studies. Through its Graduate Studies department, degrees are extended to include the Master of Business Administration (MBA), Master of Arts in Teaching (MAT), and Master of Education in Urban Education, (M.Ed.). Rockford University is home to one of only 11 Phi Beta Kappa (PBK) chapters in Illinois, the most prestigious honor society in the United States. Named by The Princeton Review as a Best Midwestern College and is a U.S. News & World Report Best Midwest Regional University, Rockford University currently serves approximately 1,250 full-and part-time students.
For more information: Emma Bergstrom, Rockford University, 815.847.0472, ebergstrom@rockford.edu
# # #