ADMITTED UNDERGRADUATE STUDENTS
Welcome to Rockford University!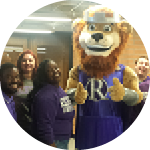 Congratulations! You've been admitted to Rockford University. Now what? Let's get you on your way to becoming a Rock Solid Regent. We're excited to welcome you to our campus community. Rockford University is committed to educating men and women to lead responsible lives by means of a curriculum grounded in liberal arts learning and complemented and extended by professional and practical experience.
Show your #RegentPride and get ready for your educational journey to begin!
READY TO BECOME A REGENT?
Congratulations! Your exciting educational journey as a Rockford University Regent is almost ready to begin. Take the next important step and make your deposit right now in order to secure your place in our next class of new Rock Solid Regents!
Once you've been admitted to Rockford University and the deposit(s) have been received, you must work towards gaining a Visa. Learn more!
Attend SOAR or ROAR to meet with your faculty advisor and select your classes. Your admission counselor will contact you to set up your appointment.
Attend Welcome Week events! It's required for all new students and is a fun and convenient way to prepare for your new academic adventures and campus activities. Register now!
Office of Admission
Nelson Hall--2nd floor
5050 E. State Street
Rockford, IL 61108
815-226-4050
Fax 815-226-2822
Office of Admission
Admissions@rockford.edu

Hours:
Mon-Thurs - 8:30 am to 7:00 pm
Fri - 8:30 am to 5:00 pm
Sat - 9:00 am to 1:00 pm -- Please call to reserve an appointment on Saturdays.