ADMITTED UNDERGRADUATE STUDENTS
Welcome to Rockford University! #RockSolidRegent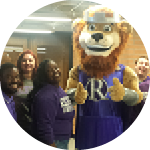 Congratulations! We're excited to welcome you to our community. What's next? Set up a campus visit and connect with us on Facebook, Twitter (@AdmissionsRU), and Instagram (@AdmissionsRU).
Your personal admission counselor is also happy to help answer any questions you may have about RU, or to connect you with a current Regent. Just give us a shout at 815.226.4050, admissions@rockford.edu, text your counselor, use the online chat, send us a Facebook message–whatever works best for you. We're here!
Complete the Admitted Student Checklist!
Congratulations! Your exciting educational journey at Rockford University is almost ready to begin. Take the next important step and pay your deposit right now in order to secure your place in our next class of new Rock Solid Regents!
Complete New Student Paperwork
We have a few items for you to complete as you prepare to be a student at Rockford University.
Student Life's Emergency Contact Form – (all students)
Lang Wellness Center's Health Forms–  Our Lang Wellness team will be contacting you after you enroll in classes to complete. (all students)

Immunization Records Form
Insurance Forms – Waive the university health insurance if already insured, or enroll in university health insurance if not currently insured.
Mental Health Disclosure Form
Health History Form

Residence Life's Housing and Meal Plan Form – (students planning to live on campus only)
Admitted students who have paid their deposit can enroll in classes. Students can either attend an in-person registration day or request a virtual advising appointment. When you sign up, you'll confirm your information to be certain that our advising team has all the best information for planning out your first-semester schedule.
In-Person Registration Event
Virtual Advising
Virtual advising is booked individually on your schedule and is completed over a video-call.
Attend Your Advising Appointment
If you selected the in-person event, you'll receive an immediate email with the basic details. As the event approaches, you'll receive a more detailed confirmation with an agenda and a specific start time.
If you selected a virtual appointment, we will review your information and send you a link to book directly with your faculty advisor.
During your advising appointment, you and your advisor will select your classes for the upcoming semester. After appointment, you'll be enrolled in classes and receive an official schedule.
Access the Student Portal
Use your new Login Credentials to access student resources via my.rockford.edu.
From my.rockford.edu, you can access
The Student Portal and announcements
Your Rockford University Email
Canvas – A system that houses communications and information about your classes.
Self-Service where you can access your class schedule and financial aid information.
Note: it may take up to 24 hours after you receive your login credentials for all systems to update and allow your access.
Have your already completed your advising appointment and didn't receive your log-in information? Contact us at admissions@rockford.edu
Having IT issues? Contact our IT department at support@rockford.edu
Chat with Financial Aid
We want to make sure we have all your questions answered. Book a virtual appointment to chat with a member of our financial aid team. SAS@rockford.edu
Common topics for students and families to discuss with our team:
Verification forms
Review your bill
Securing student loans
Setting up a payment plan
Stay in touch!
We are here for you all summer long. Stay in touch!
Parents and guardians – Stay connected on Campus ESP.
Students – Meet your classmates on ZeeMee.
Office of Admission
Johnson Center
5050 E. State Street
Rockford, IL 61108
Phone: 815-226-4050
Fax: 815-226-2822
Email: Admissions@rockford.edu

Hours
Monday-Friday: 8:30 a.m. to 5 p.m.
Sat: 9 a.m. to 1 p.m.
Please call to reserve an appointment on Saturdays.