Rockford University Undergraduate Experience
At Rockford University, we believe in empowering our undergraduate student population by providing them with a world-class academic program and incorporating practical experiences that help set them up for success in their chosen field. We do this by bringing in professors and educational support staff that are willing to engage with our diverse student body in small-sized courses and individual attention.
Academics
Our education philosophy reaches across each undergraduate degree program and is grounded in a liberal arts education that's combined with practical and professional learning experiences. We expect our students to learn not just from their classes and professors, but from each other, and to develop and explore their educational opportunities in both classroom and real-world settings.
Setting You up for Success
An underlying promise of earning a bachelor's degree is the opportunity for success in your given field. To enact that promise, Rockford University created the Office of Student Success and Retention, which commits itself to aid and guide our diverse student body to both realize and accomplish their educational and professional goals.
This office tracks the academic success of all students, with an enhanced focus on first-year students to better ensure they begin their Rockford University experience on the right foot. We also work side-by-side with faculty to ensure we are taking proactive steps to offer a helping hand to students who may be struggling to adjust to their new environment or with academic expectations.
In addition, we provide resources to those who are conditionally enrolled in an undergraduate program here at Rockford University to ensure a smooth transition. We do not enroll students to pat ourselves on the back, but because we believe in the power of our students' accomplishments and potential.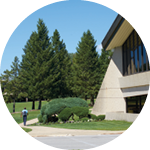 Rockford University is affordable.
Yes, really. Over 99% of our full-time students receive financial aid, and every full-time student receives a scholarship. We also offer competitive scholarships that range up to 100% tuition, and several grant and loan programs. Check out scholarships, financial aid, and more.
Career Development
We know that for most of our undergraduate students, Rockford University serves as a stepping stone to their next great accomplishment. We honor that place in our students' lives not only through our academic and campus offerings but with our Career Development office. We help both students and alumni by developing 4-year education plans, offering job search assistance, and working individually with our students to craft resumes, providing mock interviews, and career assessments.
Our alumni have accomplished many wonderful and truly world-changing things, and we will work with you to ensure you are on the educational and career path that best serves your personal and professional dreams.
Rockford University Is the Place to Start
There is more to an educational environment than just the professors and classroom size. At Rockford University, our 150-acre campus serves as a communal park for our students and faculty. Our facilities are world-class, with athletic amenities, libraries, and performing and visual arts centers all available for use by our students.
If you are ready to take rock solid steps towards your dreams, reach out to Rockford University today for more information on how we can help. Contact us today at 815-226-4050 or through our website to schedule a personal tour.
Office of Admission
Johnson Center
5050 E. State Street
Rockford, IL 61108
Phone: 815-226-4050
Fax: 815-226-2822
Email: Admissions@rockford.edu

Hours:
Monday - Friday, 8:30 a.m. to 5:00 p.m.
Sat - 9:00 a.m. to 1:00 p.m. -- Please call to reserve an appointment on Saturdays.