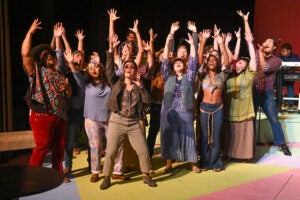 For Immediate Release:
Oct. 11, 2023
Rockford University Performing Arts to Host Travel-Themed Cabaret Fundraiser Directed by Student Robbie Strader
ROCKFORD, Ill. (October 10, 2023) – Rockford University, the region's leading private four-year educational institution, will host All Around The World And Back Again: A Travel-Themed Cabaret at 4:00 p.m. and 10:00 p.m. this Saturday, October 14, 2023. This Rockford University Performing Arts event will serve as a fundraiser for the department's trip to Scotland for the Edinburgh Festival Fringe.
The Edinburgh Festival Fringe is one of the largest performing arts festivals in the world, and draws thousands of participants and spectators every year. The Rockford University Performing Arts department has once again been invited to perform at the festival.
The cabaret will be directed by Performing Arts student Robbie Strader, with musical direction by Professor Timm Addams.
"After an 8-year hiatus, students in RU's performing arts department are presenting a cabaret event: All Around the World and Back Again: A Travel-Themed Cabaret. Our department has been invited (for a second time) to perform at the Festival Fringe in Edinburgh, Scotland, next summer, so we're hosting this as a fundraiser for that awesome opportunity! Saturday's cabaret event will feature students from all four classes performing songs about travel, from Billy Joel to Disney, and everything in between. Alumnus Chanel Black, recently off the national tour of Legally Blonde, is our special guest! This is a free event, but we're asking for donations at the door…and for snacks, soda, beer, and wine, which will be available!" says Professor Timm Addams.
Admission to the event is free, with a suggested donation of $20. Donations can also be made online at givecampus.com/tzx0ta.
About Rockford University:
Rockford University, a private four-year institution in Rockford, Illinois, is dedicated to providing a quality education rooted in liberal arts and professional studies. With a rich history dating back to 1847, RU is committed to preparing students for rewarding careers, responsible citizenship, and lifelong learning. To learn more about Rockford University, visit our website at www.rockford.edu.
###
Media is invited to attend the cabaret beginning at 3:00 p.m. in the Cheek Theatre in the Clark Arts Center at Rockford University.
Media should RSVP by 12 p.m. Friday, October 13, by email at Communications@Rockford.edu.
Contact:
Kayla Eddy
RU Marketing and Communication