RPS 205 Students commit to attend Education Pathway program
03/21/2018 10:18 am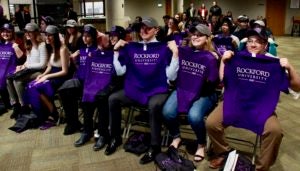 The Rockford Public School District 205 School Board recognized 20 seniors at last night's board meeting who have committed to participation in the Education Pathway program at Rockford University. The students come from high schools East, Jefferson, Auburn and Guilford.
First introduced in the spring of 2016, Education Pathway students could first began enrolling in the program in the fall of 2017. The Education Pathway program's goal is to attract RPS 205 students to the teaching profession specifically to stay and work in RPS 205. The program begins in the middle school with seventh and eighth graders discussing a teaching career. It continues in high school with an education pathway, then transitions into a college degree program through Rockford University at a significantly reduced cost. If hired in RPS 205, program graduates can also receive a master's degree in urban education cost-free from
Rockford University.
Rockford University congratulates the incoming Education Pathway students and commends them on their decision to pursue a career in education.
Read more in Rockford Register Star's article – Rockford Public Schools celebrates first full class of future teachers