by Sara Myers, Digital Media & Communications Specialist
Rockford University Freshman Clare Strong, who is one of 11 siblings, grew up playing tackle football with her large family in Fairbury, Illinois, located a little over 100 miles southeast of Rockford. Strong's three brothers played high school football which allowed her to learn the game from them.
Ever since she was young, Strong said she has wanted to play high school football just like her brothers. She said she didn't realize back then that her love for football would continue into her college career at Rockford University — or that she would become the only current woman on the RU Regents football team. Strong joined the team in September of 2022 and will start her second season this fall.
She is currently studying kinesiology for exercise science. Strong is also on the basketball team here at RU. She hopes to be a strength and conditioning coach when she finishes her undergraduate studies.
"I had a goal and I was going to do anything I could to achieve it," Strong said. "But, my mom was worried about me getting hurt. I started lifting at the age of 12 with my brother-in-law, who is my personal trainer and the athletic trainer at the high school I went to."
Once Strong's freshman year of high school came around, she said she was "already bigger and lifting more than half of the kids" in her class.
Strong was one of two girls who played on the Prairie Central football team back home. Her mom originally agreed to let her play one year of football, she said, but Strong was able to convince her mom she could play all four years by showing that she could keep up with her male teammates.
"My parents are definitely my biggest supporters," she said. "They never missed one game."
Strong started off only playing the position of kicker on her high school team, but quickly realized she wanted in on the action.
"I'm the type that always wants to be moving," she said. "If you're a kicker and you're practicing, you don't really do much other than kick. I decided to try out to be a running back and outside linebacker."
Strong played all three positions during her high school career. She even made "All-Conference" by her senior year at Prairie Center.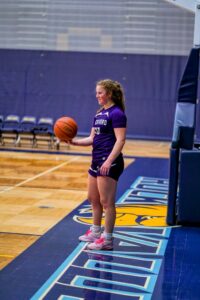 Committing to RU
Fast forward to spring of 2023, and Strong is now in her freshman year at RU, and playing on the Regents football team. One of the deciding factors to picking RU was seeing that she had a familiar face on the football coaching staff here.
Jallen Bashford is the Linebackers Coach and Special Teams Coordinator on the football team. He is also an alum of Prairie Central High School, where he played on the football team, just like Strong and her brothers.
Bashford said he was already friendly with the Strong family and had even remembered going to football team dinners at their house. He said that Strong's dedication to the sport makes her a great asset to the team.
"You can tell from lifting," he said. "She will go as heavy as possible so she can match some of the guys when they're lifting weights. She doesn't back down from a challenge."
He said he appreciates her hard work and determination.
Strong, who usually plays kicker, wanted to try linebacker on the freshman team. Bashford praised her confidence to try something new and how she wasn't scared to take on a challenge.
"She played all the way through high school," Bashford said. "She is a very good kicker. Funny thing is most of her brothers were kickers."
Strong said she hasn't had any problems being the only woman on the RU football team — at least not currently. She said that she's become friends with most of the guys on the team and during practice of lifting weights, everyone is always cracking jokes and having a good time. Right now, Strong said she plays on the JV team switching between kicker or linebacker.
"When it comes time to work, everyone's locked in and ready to go," she said. "As a female, I have to work a lot harder to get to where everyone else is at, but if you work hard enough you'll get there. I'm treated no differently than any other guy on and off the field."
CORRECTION: This story has been edited to correct that Clare Strong was not the first woman on RU's football team. We apologize for the error.