Register Star special section celebrates University's 170 years
08/17/2017 2:51 pm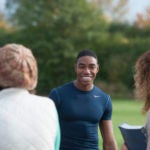 "I felt like I mattered on this university's campus. Everyone here feels like they have a place" – RU student Cris Newton, who is entering his senior year this fall, shares more about his his decision to come to Rockford and his experiences in the article "Rockford University offers 'Rock Solid' opportunities to help students succeed ." This story, along with nine others, are part of the Sunday, Aug. 13 edition of the Rockford Register Star, which featured a special standalone section celebrating Rockford University's 170th year.
The comprehensive look at Rockford University's past, present and future on rrstar.com also includes: (Please note that non-subscribers are able to read a limited number of articles. View PDF version here.)
See the PDF version of the special insert here.