'A Flea in Her Ear' opens with raucous fun on April 27
04/24/2017 11:22 am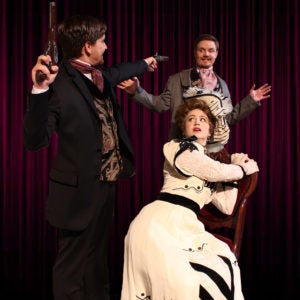 Rockford University Performing Arts Department presents "A Flea in Her Ear" on the Maddox Theatre stage April 27 – 30. Maddox Theatre is located in the Clark Arts Center on Rockford University's campus, 5050 East State Street, Rockford.
For tickets, contact BoxOffice@rockford.edu or call 815-226-4100. $12 adults, $9 students and seniors.
Professor of Performing Arts and Director Deborah Mogford shares, "In 1907 Georges Feydeau's play A Flea in Her Ear opened to critical acclaim. It was the height of La Belle Époque and Feydeau's masterpiece reflects the joyous spirit of the age. Feydeau is regarded as a master of farce and his plays continue to delight audiences with their comic exploration of the foolishness of human behavior, particularly when it comes to relationships and marriage."
Pictured at left: Owen Thomas [DON CARLOS HOMENIDES DE HISTANGUA]; Brandon Michaud [VICTOR CHANDEBISE, POCHE]; and Addison Clearwood [RAYMONDE CHANDEBISE].