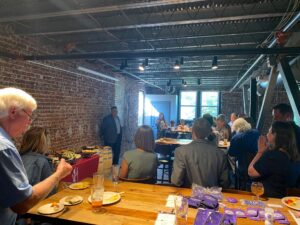 Connect with alumni and friends while having the chance to hear updates on your alma mater from Rockford University President Eric W. Fulcomer, Ph.D., and Vice President for Advancement, Stephen Kull. Appetizers and refreshments will be provided, along with plenty of free Rockford University swag for you to take home. Please note, we will continue to monitor and follow all health and safety protocols related to COVID-19.
PEORIA, AZ | Co-hosted by Emeritus President
Bill Shields and his wife Judy
Sunday, November 14, 2021 | 2-4 p.m. MST
Revolu Modern Taqueria + Bar
15703 N. 83rd Ave. #110
Peoria, AZ 85382
Register for Peoria, AZ Alumni Gathering HERE
*Please note that there is only one event being hosted in Arizona as the Tempe, AZ event originally scheduled for Saturday, November 13 has been moved to combine with the Peoria, AZ event. If you have any questions please contact us!